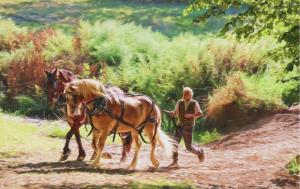 If you get a chance to visit the Howell Living History Farm in Lambertville, NJ...do it! It's like going back into history..I loved taking photos of the things going on during the plowing contest this day..I even took a turn at plowing myself..WOW..Not easy at all..and remember, in those days you'd be going all day long and many women plowed also and in a dress and sometimes even the baby somehow tucked in! I only did a few rows with the sometimes forceful guidance of the "plow helper" The draft horses were amazing...

I keep all of my images on my SmugMug page and then I put (what I think) was some of my best onto my FineArtAmerica/Pixels page.

This particular image was of one of the teams that was done for the day and headed home to the barn..You can feel the liveliness in his step and the horses certainly look like that are thinking of their dinner that is soon to come..